Welcome to Hilltop

We are a people of purpose.
God has a purpose for every person and has taken action in Jesus Christ to bring His will to pass.
Opening Doors. Opening Minds. Opening Hearts.
The church is not just a building. The church is you-- it is all of you. Beyond creating a place for God's plans to be carried out, He is creating a people who will carry out His will. Our prayer is that God will reveal to you how to align your life with the Word and step into the destiny God has planned for you.
Hilltop Family

A friendly group of people committed to support and grow together as we strive to embody God's unconditional love made real in the life and teachings of Jesus Christ.​​​​​​​
Our Mission
As the body of Christ, we are a people of purpose for God's kingdom. Salvation is attainable for all who believe in Jesus Christ, the Son of God. Redemption is provided to anyone who turns to Him because of his death and resurrection.
Our Vision
We are a community of believers who worship God and embrace all people. We recognize Jesus Christ as the Son of God and the ongoing work of the Holy Spirit to make us into the people which God has created us to be.
Faith Pillars

We accept the Holy Bible as the revealed will of God, the all-sufficient rule of faith and practice.
Salvation is paid in full (you can't earn it- it's available for you to accept) by the death and resurrection of Jesus Christ. God wants you to enjoy an abundant life, not mediocre; rather, a life filled with hope, joy, peace, prosperity and an eternal life.
His Works

WORSHIP- Demonstrating our submission to God.
WITNESS- Demonstrating life in the Holy Spirit.
WELCOME- Inviting others into the family of God.
PRAYER- Aligning ourselves with God and His Word.
COMMUNITY- To live in vital relationship with others.
Fellowship
Hilltop Tabernacle is a Christian, Non-Denominational spirit-filled, Church. Come as you are.

~Nursery & Children's Ministry ~Contemporary Praise & Worship
~Baptism, Wedding, Catering, Event Hosting, and Celebration of Life services offered.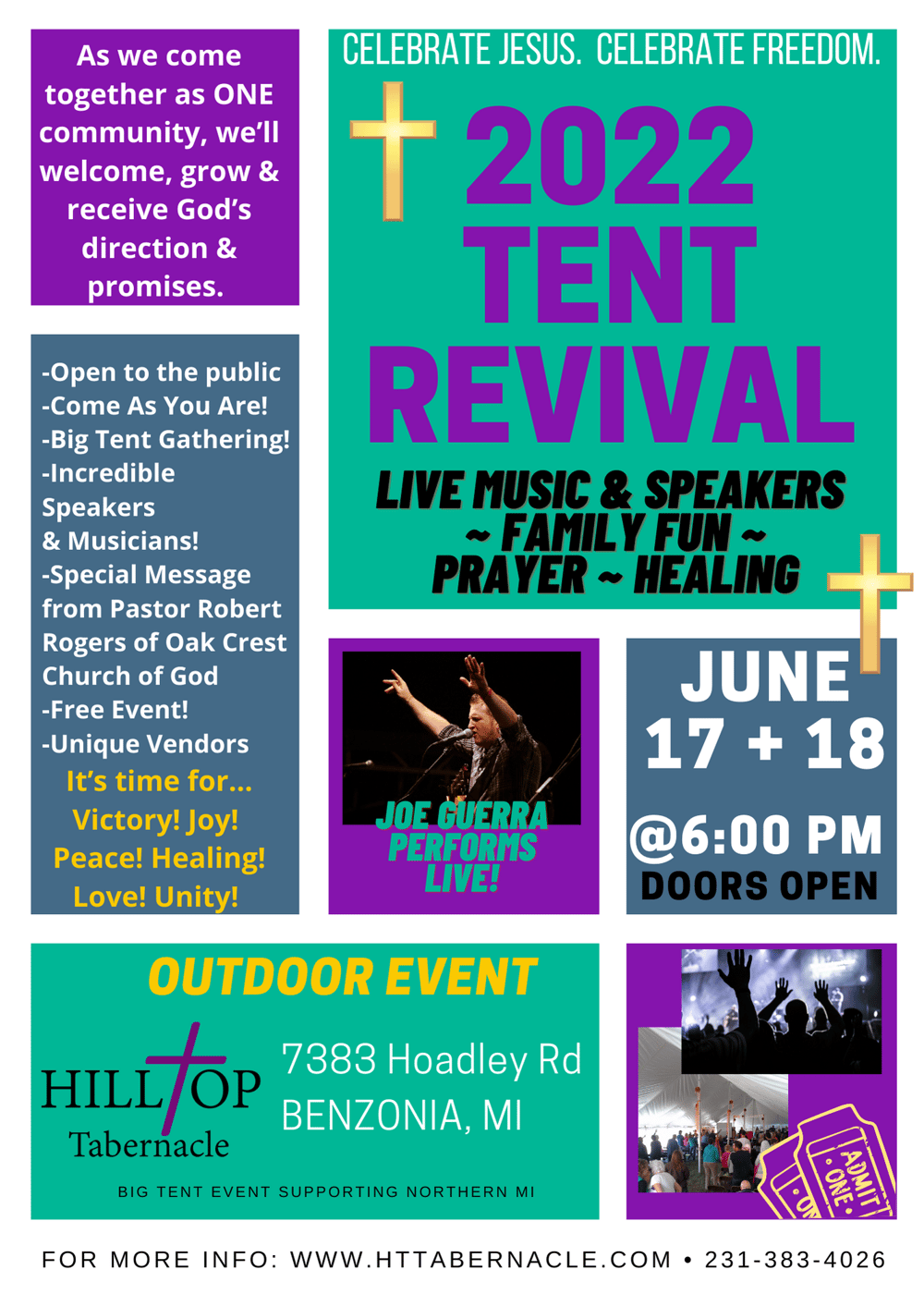 June 17 & 18, Tent Revival
4:00p.m. Vendor Booths
6:00p.m. Event
Outdoor Event for Families, Churches & Communities
The Big Tent Revival is the hub for communities, organizations, and churches from across Michigan to gather and unite as the Body of Christ. Together, we can grow, learn and receive God's direction and promises.

A free, outdoor event open to the public. Experience outstanding speakers, acclaimed musicians, and unique vendors.

4-6PM VENDORS - Check out vendor booths from amazing organizations and unique products from across Northern Michigan.

6:00PM EVENT- Big Tent doors open each night. Free Parking and Admission.

Hear from anointed Pastors and Musicians who are spreading the love of Jesus Christ, and be part of the spark in Northern Michigan. Receive a special message, healing, prayer...& so much more... visit and take part in a relaxed, welcoming and appointed time. All Glory to God!

Held at Hilltop Tabernacle. Closest major intersection to Hoadley Rd. in Benzonia: U.S. 31 & M-115, near the Wesco Station - within a few minutes of the Crystal Mountain Resort.